Regular price
Sale price
$14.00 USD
Unit price
per
Sale
Sold out
Discover the Konjac Body & Face Sponge, an eco-friendly exfoliating and gentle cleansing tool for all skin types, even sensitive skin, in an environmentally sustainable, compostable design.
View full details

Collapsible content
Description

The Konjac Body & Face Sponge is an eco-friendly exfoliating and cleaning tool. Made of 100% natural konjac root vegetable fiber and nourishing mineral extracts, it is gentle on skin while exfoliating away dirt, impurities and remove dead skin cells to deeply cleanse and refine for a radiant completion.  Extra gentle for all skin types, including sensitive skin and babies.  Its compostable and biodegradable design makes it sustainable, ensuring an environmentally-friendly choice.

This natural sponge also helps to reduce pre- and post-hair removal irritation by removing dead skin cells and unclogging pores.  It's excellent for preventing razor bumps, ingrown hairs, and bikini bumps, and promoting healthy, clear skin.
Benefits

Eco-Friendly and Sustainable: Crafted from 100% natural, compostable, and biodegradable materials, making it a responsible choice for the environment.

Certified Vegan & Cruelty-Free: Ensuring it's ethically made and never tested on animals.

Gentle Exfoliation for All: Suitable for all skin types, even sensitive skin and babies, offering a super gentle exfoliating experience.

Deep Cleansing for Natural Glow: Provides a deep cleanse, leaving your skin with a natural, healthy glow and a soft texture.

Nourishing Mineral Extracts: Enriched with nourishing mineral extracts to support your skin's well-being.

Versatile Use: Designed for use on both the body and face, offering all-around cleansing and exfoliation.

No Additives or Plasticizers: Free from additives or plasticizers, ensuring a pure, natural experience for your skin.

Convenient Hanging String: Equipped with a hanging string for easy drying and storage.
Ingredients

KEY INGREDIENTS:

Natural White: 

Soothes tired and irritated skin
Refines pores
Suitable for eczema & sensitive complexion

Bamboo Charcoal Black:

Infused with activated charcoal that enhances absorptive ability, which is perfect for removing excess oil, draws dirt and excess sebum out of pores.  Excellent for oily and acne prone skin.
Bamboo Charcoal is also a natural anti-oxidant, also helping to fight acne-causing bacteria revitalizing the complexion and tightening pores.

Cherry Blossom Pink:

Made with Japanese cherry blossoms or  sakura leaf.  It can help to repair roughness making skin smoother, softer and brighter.
Ideal for normal skin Type.
Gently exfoliates skin and helps to remove dirt, dead skin cells and blackheads.

French Red Clay:

French Red clay is enriched with natural minerals.
Ideal for mature and dry and sensitive skin that needs rejuvenating.
Helps cleans the skin by removing dead skin and keratinized cells.
Accelerates the regeneration of skin cells which improves blood circulation and makes the skin look radiant, and hydrated.
Smells Like

Unscented Konjac sponges provide a gentle, fragrance-free exfoliation, ideal for those with sensitivities or preferences for a neutral skincare experience
Your Impact

One Caley-Beth Konjac Body & Face Sponge replaces a plastic pouf or synthetic exfoliating tool from ending up in a landfill.

Biodegradable and compostable, Konjac sponges offer an eco-conscious choice that minimizes environmental impact

$1 to Assaulted Women's Hotline for every order placed
How To Use

HOW: Soak the sponge in water to let it expand, then gently squeeze to expel the excess water before using.

You can add your favourite cleanser or not.  They are effective with water alone.

Massage gently in circular motions on the face or body.

Rinse the sponge and gently squeeze excess water after each use.

WHERE: Body, and face.

WHEN: While you shower or bathe.

STORAGE: Store and hang the sponge in a cool and well-ventilated place to air dry properly.
Money Back Guarantee

Read more about our Money Back Guarantee here.
Shipping

Read more about our shipping policy here.
Return Policy

Read more about our Return Policy here.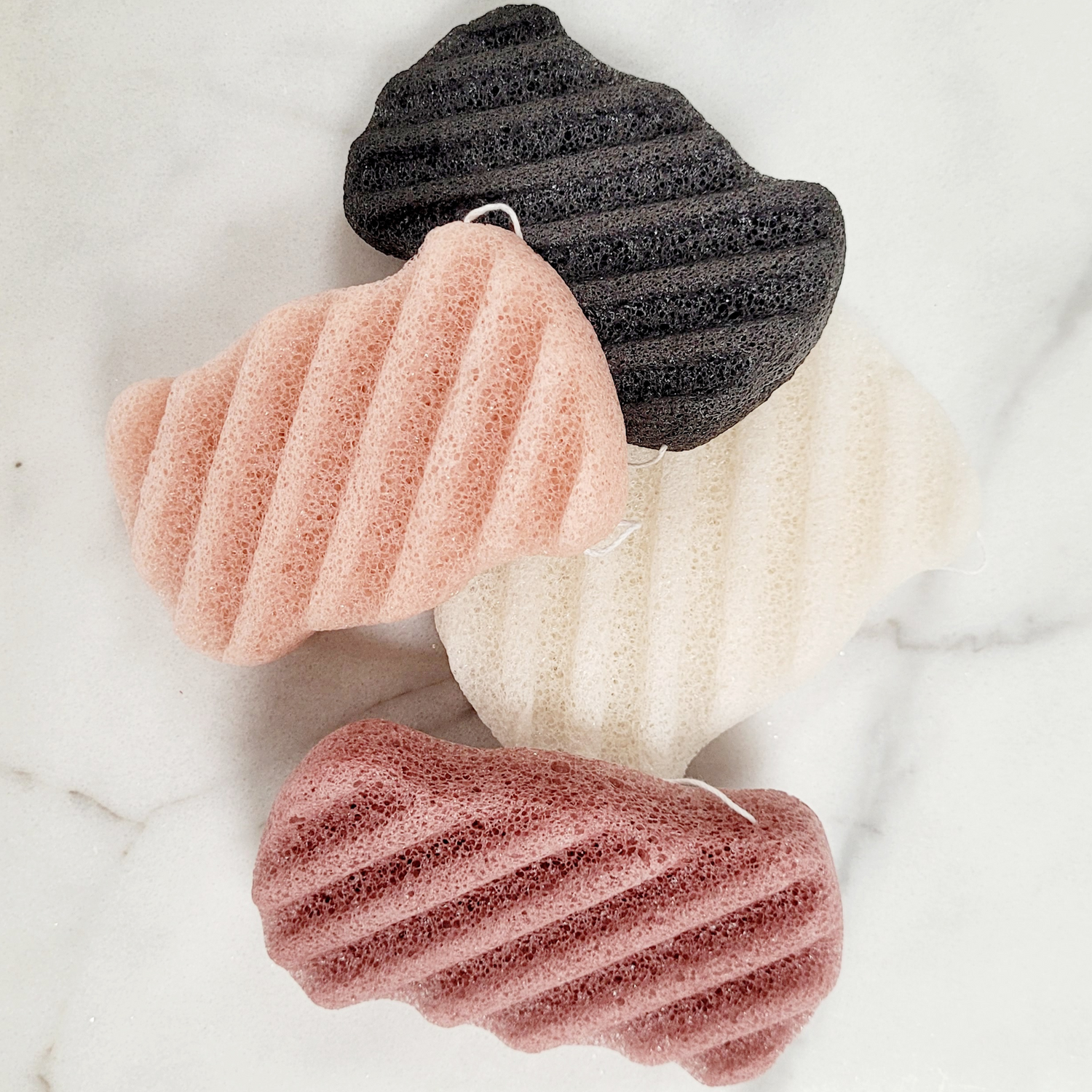 REFINED SKIN RADIANCE
Experience gentle and eco-friendly exfoliation with our Konjac Body & Face Sponge. Crafted from 100% natural, unscented konjac root vegetable fiber, this versatile sponge deeply cleanses and revitalizes your skin for a healthy, all-over radiant glow.
ADD TO CART
KEY INGREDIENTS
Konjac powder: Gentle exfoliation, effectively removing impurities and promoting smoother, more radiant skin
Activated charcoal: Enhances absorptive ability. Removing excess oil and impurities, fighting acne-causing bacteria, and tightening pores.
Japanese cherry blossoms or sakura leaf: Repairs roughness, leaving skin smoother, softer, and brighter. Gently exfoliating to remove dirt, dead skin cells, and blackheads.
French Red Clay: Rejuvenating and cleansing by removing dead skin and keratinized cells, accelerating skin cell regeneration for a radiant and hydrated complexion.